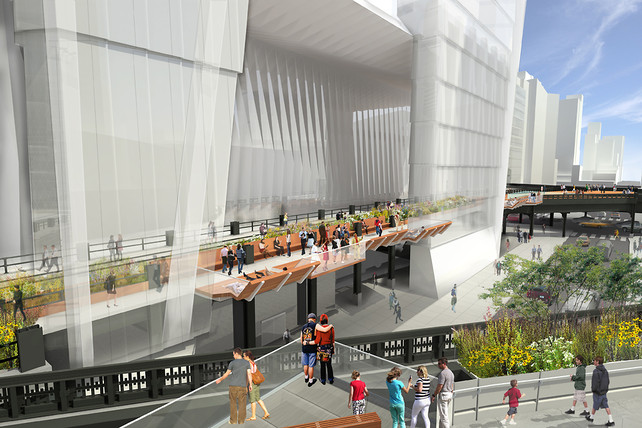 In 2009 an old, abandoned above ground rail line reopened as a public park in New York City. It's know as the High Line. As far as creative uses for public spaces go, it's pretty much a ten out of ten. But who knew it was about to get more fabulous. Co.Design gave us a look at what we have in store:
Initial details of the third and final leg of the High Line were released at a community meeting yesterday evening. Slated to open in 2014, the estimated $90 million extension of Manhattan's madly popular railroad-turned-elevated park includes easy access to public transportation, breathtaking views of the Hudson River, and a climbing structure designed explicitly for kids.
Initially built in the 1930s, the High Line had not seen a train pass over it since 1980. Friends of the High Line, a community based non-profit group that was formed in 1999, saved it from demolition.
So instead of another glass encased tower – something New York City has no shortage of – we have a really elegant park, that certainly elevates our quality of life. Another maybe less heralded move was the creation of a pedestrian zone in Times Square back in 2009. Here's how The New York Times described the debate running up to the opening:
When New York City announced a plan to shut down parts of Times Square to traffic, New Yorkers' reactions ranged from bemusement to mild hysteria.Despite reassurances from the Transportation Department that the changes would create a greener, more pedestrian-friendly city, some critics of the plan worried that it would sap the square of its chaotic energy. Others, apparently nostalgic for the seediness of the 1970s version of the square, denounced it as another step in New York's transformation from the world's greatest metropolis to a generic tourist trap.
The pedestrian zone is hardly a generic tourist trap. What it did was free up Times Square. It was far too crowded and now you can walk through it peacefully. And as best I can tell traffic is no worse in mid-town. It's amazing how much bang for your buck you can get in terms of quality of life if you reclaim places for people to use and enjoy in their daily life. Times Square used to be a place to avoid. Now it's actually an enjoyable place to pass through – even eat at.
If you are in the area, check out Celsius at Bryant Park and watch the skating while it is still around. It's one of the nicest spots in the City, but it's only around for a few months out of the year. The Short Rib Pot Roast is the perfect dish for a cold winter day while sitting under the heat lamps.