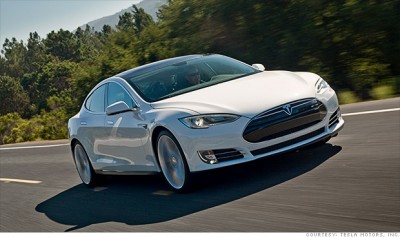 Tesla Motors is getting ready to sell additional shares and some debt like securities to raise approximately $830 million to help finance its operations. According to The New York Times
The plans could raise questions about the company's ability to generate cash flows from its operations. Last week in an investor conference call, Mr. Musk played down the notion that Tesla would soon tap the public markets to raise new money. "We don't have any plans right now to raise funding," he said.

Tesla (TSLA) has a market cap of over $10 billion. It's currently trading at $91.50, well over its 52 week low of $25.52, so clearly it's a good time to raise capital if you need it. Tesla has its believers and its critics. Consumer Reports just called the Model S the best car it has ever tested. But much of the financial debate revolves around what's the eventual market for an expensive all electric car, with short sellers arguing
there is not much of a market for its cars beyond a small group of enthusiasts. These skeptics say they think that excitement has evolved into a stock mania.
I think the bigger worry beyond its immediate market potential should be what happens when the market does actually start to establish itself – i.e., as the technology improves and maybe energy prices rise. All of the major car companies are already offering some form of electric car. But the market is so small none of them are chasing after it with a vengeance. What happens if some of its bigger rivals decide to actually subsidize and grow the market? That's what Toyota did with the Prius until it had widespread consumer acceptance.
The long-term answer for what will make a successful electric car company may not be about the technology or the marketing but the structure of the company itself. Amazon had first mover advantage similar to Tesla, but it was able to move into multiple markets to help subsidize money losing operations in others, besides having easy access to capital.
Could a diversified automotive company do to Tesla what Amazon did to the publishing industry?