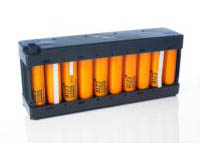 Fisker Automotive, a manufacturer of electric sports cars, has run into trouble. That's bad enough, but that may be really bad news for lithium-ion battery maker A123 Systems and for the entire sector. The MIT Technology Review broke down the domino effect like this:
After failing to meet the milestones required by a loan agreement with the U.S. Department of Energy, Fisker Automotive, a startup making high-end hybrid electric cars, announced this week that it will stop work on a factory in Delaware and lay off 26 people. Fisker's troubles could prove disastrous not only for Fisker, but for A123 Systems, which supplies the automaker with lithium-ion batteries.
IDC expects the global demand for lithium-ion batteries to grow by 447% from 2011 to 2015. But that doesn't mean those batteries will be made here. IDC breaks down the global market like this:
To meet this expected demand, manufacturers throughout the world are engaging in one of the largest factory build-outs in world history. It is led by a combination of existing battery giants, such as Panasonic in Japan, Samsung SDI in South Korea, and Johnson Controls in the United States, as well as emerging players, such as A123 Systems in the United States, Electrovaya in Canada, and BYD in China. In the United States, there is a thriving Li-ion manufacturing industry reignited by the American Recovery and Reinvestment Act, which provided 50% matching grants to Li-ion manufacturing facilities. However, the vast majority of Li-ion production will occur in Japan, South Korea, and China, whose governments have identified the Li-ion industry as a vital national interest and have initiated significant subsidies to help build new factories.
The battery technology is really the guts of an electric car. Energy storage will also be a key element to a greener US and global economy and is thought to be a critical technology for the 21st Century. America's leading electric car, the Chevy Volt, is using batteries from LG Chem, a Korean manufacturer. We can talk about green jobs all we want, but it would be nice if some of those were in manufacturing and not simply installing solar panels that were made in China.