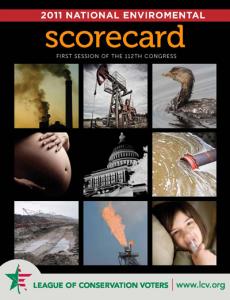 The League of Conservation Voters just released their annual scorecard on the voting records of every member of Congress, just in case you missed a few votes. The report is an invaluable reference that has been published every year since 1970. The authors strive to be non-political in what has been such a politicized voting area. In the introduction they lay it out very clearly what is happening on the Hill these days:
In 2011, the republican leadership of the U.S. house of representatives unleashed a truly breathtaking and unprecedented assault on the environment and public health, the breadth and depth of which have made the current house of representatives the most anti-environmental in our nation's history. The 2011 National Environmental Scorecard is a sad testament to the radical nature of the first session of the 112th Congress in the house; this Scorecard includes so many votes that the house votes section spans two pages for the first time ever.
All of this is really unfortunate as the League of Conservation Voters was created under the idea of bi-partisanship with respect to environmental issues. Back in 1970 you really could be a Republican and be green. President Nixon created the EPA. It wasn't that long ago that the League of Conservation Voters gave money to some middle of the road Republicans who had strong environmental records. If you check out there list of recipients these days it's all Democrats. In contrast, the Dirty Dozen, LCV's hitlist, is almost exclusively Republican.
It calls into question the whole idea of non-partisanship when it comes to environmental issues. If there was a green Republican would it make sense to support him? He might only tip the scales in the Senate and lead to the dismantling of the EPA. Of course, this makes any sort of ambitious environmental legislation virtually impossible as President Obama has found out the hard way.
If the LCV put out a scorecard on the environment, it would be losing.