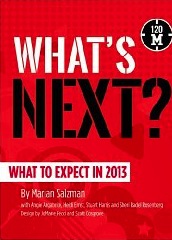 With 2012 the hottest year on record in the United States, it would be pretty easy to predict more of the same in 2013. But in the new book What's Next? by Marian Salzman, she takes things a step further. She points out that "Americans who believe in religious miracles increased by 22 percent in the last two decades." Then forecasts that
If superstorms are going to stick around, look for a rise of faith when it comes to searching for meaning as to why all of this weather is happening.
Salzman harkens back to the Celts who were big weather worshipers to put this all in historical perspective. Unfortunately, this does not mean that green will all be a rage again. She sees significant green fatigue with consumers who are more worried about the economy and tired of marketers talking about their green bonafides.
Maybe Salzman's predictions will help you understand the friend that is seemingly addicted to the Weather Channel. But if all of this climate talk is making you nervous and don't want to rely on a higher power to save you, there might be an app for that. She says to check out
Hurricane Hound, Hurricane by American Red Cross, Hurricane Tracker and iMap Weather Radio which sends text/voice alerts and let's you listen to the local radio.